Serves 4-6
Prep Time: 10 min Slow Cooker Time: 6 hours on LOW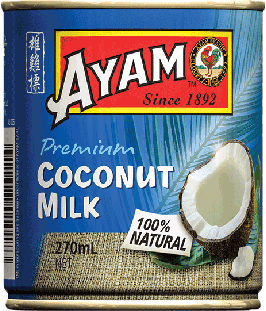 Ingredients:
1/3 cup AYAM™ Thai Yellow Curry Paste
500g chicken thigh fillets, diced into 2cm pieces
1/2 can AYAM™ Coconut Milk 270ml
1 tbsp AYAM™ Fish Sauce
1 tbsp brown sugar
1 small red capsicum, chopped into 2cm pieces
120g green beans, trimmed and chopped
12 red or yellow grape tomatoes
Chopped coriander, to garnish (optional)
Method:
1. Combine chicken, curry paste, coconut milk, fish sauce and brown sugar in a slow cooker.
2. Cook for 6 hrs on LOW.
3. Add the vegetables in the last 30 minutes of cooking time.
4. Serve with rice, garnish with coriander.

Tip: Can use thigh fillets with the bone. For softer beans add during the last hour of cooking time.