Serves 4-6
Prep: 10 mins Slow Cooker Time: 6 hours on LOW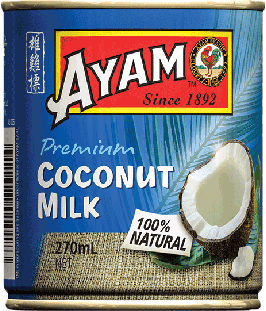 Ingredients:
195g jar AYAM™ Thai Red Curry Paste
2kg whole chicken
2 x 270ml cans AYAM™ Coconut Milk
2 medium potatoes, chopped
2 kaffir lime leaves, finely sliced
1 tbsp AYAM™ Fish Sauce
1 tbsp AYAM™ Palm Sugar Syrup
1/4 cup chopped Thai basil leaves
Method:
1. Wash the chicken well under cold water and pat dry with paper towel. Cut the chicken into 8 pieces, discarding the backbone and wing tips.
2. Combine the Curry Paste, Coconut Milk and kaffir leaves in a slow cooker. Add the chicken pieces and potato making sure they are covered in sauce.
3. Cover and cook on LOW for 6 hrs. Stir through Fish Sauce, Palm Sugar Syrup and basil before serving. Serve with steamed rice.