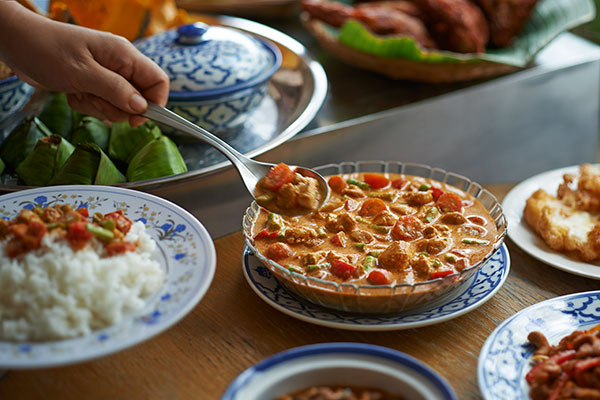 Serves 4
Prep Time: 15 mins Cook Time: 15 mins
Ingredients:
1 tbsp vegetable oil
1/3 cup AYAM™ Thai Yellow Curry Paste
500g chicken thigh fillets, diced into 2cm pieces
1/2 can AYAM™ Coconut Milk 270mL
1 tbsp AYAM™ Fish Sauce
1 tbsp brown sugar
1 small red capsicum, chopped into 2cm pieces
120g green beans, trimmed and chopped
12 red or yellow grape tomatoes
Chopped coriander, to garnish
Method:
Heat oil in a wok over medium-high heat.
Add Curry Paste and cook for 1 min or until fragrant.
Add chicken and stir-fry for 2 min.
Reduce heat and add Coconut Milk, Fish Sauce and sugar.
Stir and simmer for 5 min.
Add vegetables and cook for a further 5 min until chicken is cooked and vegetables are tender.
Garnish with coriander. Serve with steamed rice.