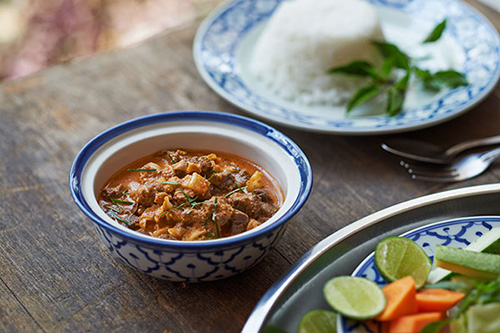 Serves 4
Prep Time: 5 mins Cook Time: 30 mins

Ingredients:
1/3 cup AYAM™ Thai Red Curry Paste
500g beef fillet, diced into 2cm pieces
270ml can AYAM™ Coconut Cream
1/2 cup water
100g cabbage leaves, chopped into small pieces
2 kaffir lime leaves, finely sliced
Basil leaves, to garnish
Method:
Heat a wok or pan over medium-high heat. Add Curry Paste and beef, stir-fry until beef is browned and coated in paste. Stir in Coconut Cream, water and bring to the boil. Reduce heat and simmer for 15 min. Add cabbage and kaffir lime leaves, cook for a further 5 min until the beef is tender. Garnish with basil leaves. Serve with steamed rice.
Tip - Add more water if sauce becomes too thick.