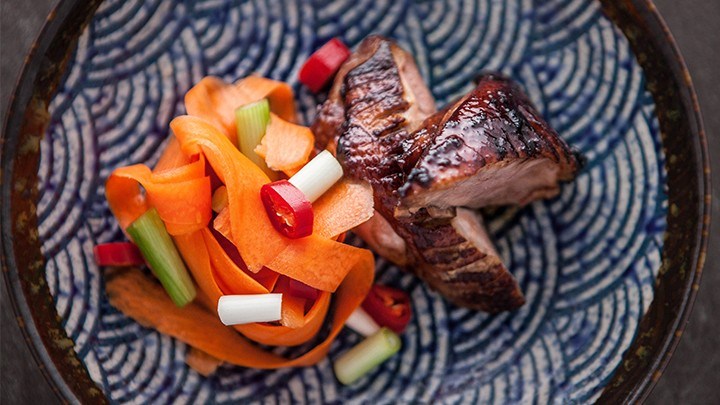 Serves 4
Time: 20 min + 1 hour marinating
Recipe: Justine

INGREDIENTS:
2 duck breasts, skin on, scored
AYAM™ Teriyaki marinade
1/3 cup dark soy sauce
2 cloves garlic, crushed
2 tsp grated ginger
1 tbsp mirin
1 tbsp honey
1 tsp AYAM™ sesame oil
2 large carrots, peeled into ribbons
1 long red chilli, deseeded, finely sliced
2 green onions, thinly sliced on the diagonal
¼ cup coriander leaves, roughly chopped
2 tbsp rice wine vinegar
1 tbsp lemon juice
1 tbsp caster sugar
1/4 tsp salt
Steamed jasmine rice and Asian greens, to serve
method:
Place duck breasts in a large snaplock bag. Combine marinade ingredients in a small bowl and pour over duck breasts. Marinate for at least 1 hour.
Meanwhile, to make the pickled carrot, combine the carrot, chilli, onions and coriander in a bowl. In a small bowl, add the vinegar, lemon juice, sugar, salt and 1/2 tbsp warm water. Stir until sugar dissolves and pour over vegetables. Set aside.
Heat a large non-stick pan over medium-low heat. Remove duck from marinade (reserve) and pat dry with kitchen paper.
Place the duck, skin-side down, into the pan. Start the cooking process on a low heat and gradually bring the heat up to medium high. Your aim is to render the fat and form a crispy golden skin. Cook for 6 minutes skin side down then turn over and cook for a further 5 minutes. Transfer to a plate and rest for 5 minutes. Pour in the reserved marinade and bring to the boil. Once it looks like a glaze, remove from the heat. Slice duck and pour glaze over.
Serve teriyaki duck with carrot pickle, steamed rice and Asian greens.