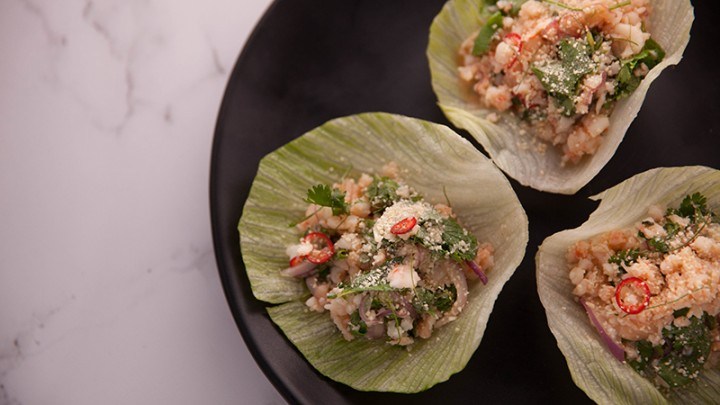 Serves 8
Time: 30 minutes
Recipe: Daniel Wilson


INGREDIENTS:
500 gm prawn meat, minced
50 ml water
25 ml AYAM™ fish sauce
2 kaffir lime leaves, whole
1 tsp chilli powder
½ red onion, finely sliced
2 shallots, finely sliced
½ handful mint, picked
1 handful thai basil, picked
1 handful coriander, picked
2 birds eye chillies, finely sliced
2 kaffir lime leaves, finely sliced
2 tbsp roasted ground jasmine rice
2 limes, juiced
8 iceberg lettuce cups
method:
Place mince in a saucepan with water, fish sauce, and lime leaves and break up with a wooden spoon. Heat over a medium heat and keep stirring from time to time to separate. Once all of the prawn has cooked, transfer to bowl, mix through the chilli powder and leave for 10 mins to cool down a little.
Tear the herbs and add to the mince along with all of the rest of the ingredients reserving a little of the ground rice and sliced lime leaf to garnish the top with. Place in the 8 lettuce cups and top with reserved ground rice and lime leaf julienne.