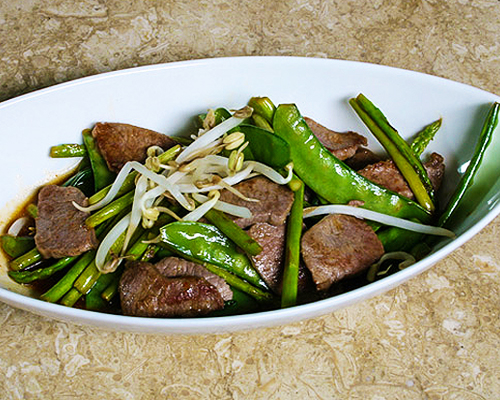 Serves 4



INGREDIENTS
500g lamb fillet, sliced thinly
2 tablespoons plain flour
1 teaspoon Chinese five spice powder
200g asparagus cut in 5cm lengths
10 green shallots cut in 5cm lengths
2 tablespoons Alce Nero Olive Oil
2/3 cup water
1 and 1/2 cups snow pea sprouts
1/3 cup AYAM Plum Sauce
1 tablespoon AYAM Thick Soya Sauce
2 tablespoons AYAM Hot Chilli Sauce
STIR-FRYING
Dust the lamb slices with combined flour and five spice powder.

Heat the oil in a wok or a fry pan. Add the lamb and stir fry over high heat for about 2 minutes, until lightly browned. Keep stirring food when stir-frying. Then remove the lamb.

Add the asparagus and stir fry for about 2 minutes, until tender.

Return the lamb to the wok with green shallots and the sauces; Plum, Light Soy and Hot Chilli and the water. Stir fry for a few seconds, until heated through.
PRESENTATION
This delicious Stir Fry is ideal served with sprinkled snow pea sprouts.
Enjoy it with either traditional rice or noodles and with finely sliced chilli.