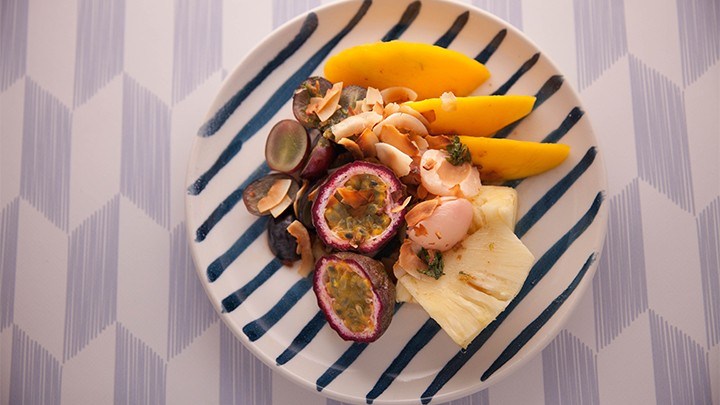 Serves 4
Time: 15 minutes
Recipe: Justine

INGREDIENTS:
4 lychee, peeled and cut in half
½ cup grapes, cut in half
2 mangoes, cheeks remove from stone, scooped out of skin and cut in ½
lengthwise
½ pineapple, peeled, peeled and cut into 10 cm batons
2 tbs. caster sugar
1 tbs. lightly dried ginger + extra for garnish
½ tsp. AYAM™ tamarind paste
Juice and zest of 1 lime
3 sprigs of mint, finely chopped
2 tbs. Coconut flakes, toasted
method:
To make the ginger sugar syrup, place the sugar and ginger in small pot of along with ½ a cup of water. Bring to the boil and once it just starts to thicken remove from the heat and cool to room temperature.
Whisk in the tamarind paste, lemon zest and juice and the mint.
Arrange fruit into shallow bowls and drizzle over syrup. For extra crunch and presentation, garnish with toasted coconut flakes and ginger.