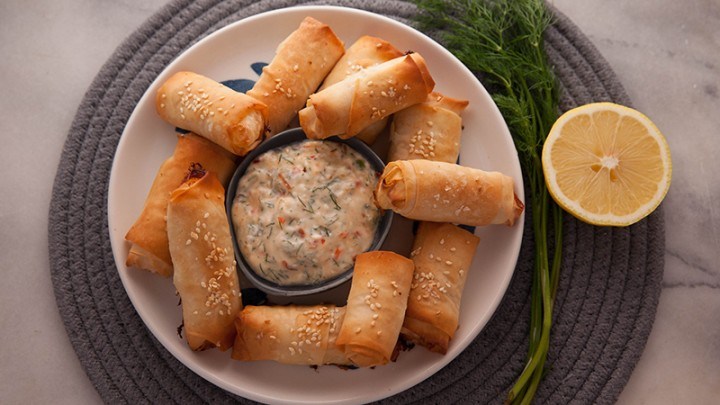 Serves 20 pieces
Time 30 Minutes
Recipe: Justine

INGREDIENTS:
500g white fish like flathead, snapper, blue cod fillets (cut into 5-6cm pieces)
50g almond meal or breadcrumbs
Zest of 1 lemon + juice of half
5 sheets of thick fillo pastry
50g butter, melted
Salt
sesame seeds to garnish
4 tbs. sour cream
2 tbs. sweet chilli
2 sprigs dill, finely chopped
method:
Preheat oven at 200C°. Cut the fish fillets into 5-6cm batons (approx. finger length).
Mix the almond meal with the lemon zest and salt. Roll the fish pieces into the almond meal until well coated.
Brush one piece of fillo with butter. With the fillo facing horizontally, place 4 pieces of fish at the bottom end. Leave an even gap between them. With a sharp knife cut the pastry into strips between each piece of fish. Roll up each finger just like a spring roll. Brush butter all over and sprinkle some sesame seeds on top. Repeat the process with the 4 remaining sheets of fillo.
Place the fish fingers on a baking tray lined with baking paper. Bake in the oven for 10-12 minutes or until golden brown.
Mix the sour cream with the lemon juice and add a dollop of the sweet chilli sauce to the centre. Sprinkle over dill and serve with the fish fingers.