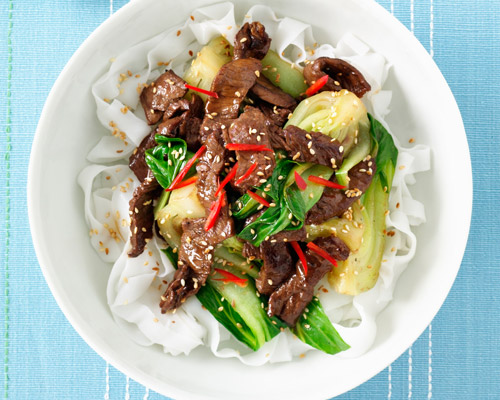 Recipe and image courtesy of Meat & Livestock Australia
Serves 4
Preparation Time: 10 minutes
Cooking Time: 20 minutes


Ingredients:
500g beef rump, cut into thin stir-fry strips
1 tbsp brown sugar
2 tbsp oil
500g pack fresh rice noodles
2 tsp AYAM™ Pure Sesame Oil
1 bunch baby bok choy, washed and separated into leaves
2 tbsp AYAM™ Oyster Sauce
1 tbsp AYAM™ Soy Sauce
2 tsp sesame seeds, toasted
sliced fresh red chilli, shredded ginger and spring onions to serve (optional)
Method:
Rub the brown sugar into the beef strips, then add a little of the oil to the beef. Mix
well.
Rinse the rice noodles under hot water, gently separate. Pan-fry or steam the noodles until hot, drizzle with sesame oil. Set aside.
Heat the wok, ensure it is hot. Stir-fry the beef strips in three batches, reserving
each cooked batch to rest in a warm bowl. Reheat wok between each batch.
Reheat the wok, add remaining oil and heat. Add the bok choy, stir-fry for one minute. Add combined oyster and soy sauces, stir-fry to mix. Return the beef to the wok, toss to combine.
Place rice noodles on serving plate, add beef stir-fry. Sprinkle with sesame seeds and sliced red chilli if desired. Serve ginger and spring onion shreds on the side.