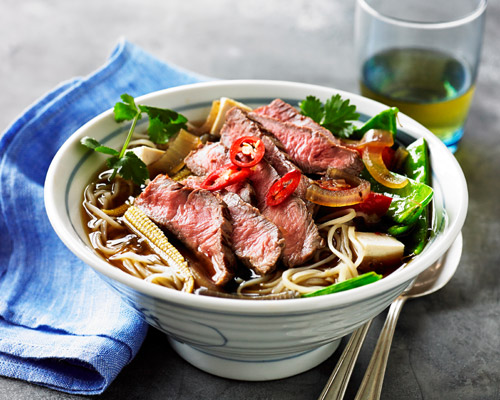 Recipe and image courtesy of Meat & Livestock Australia
Serves 4
PREPARATION: 25 minutes + standing / resting
COOKING: 15 minutes


Ingredients:
2 x 200g beef sirloin steaks, fat trimmed
200g packet rice noodles
2 tbsp peanut oil
2 red onions, halved lengthwise, roughly chopped
4cm piece ginger, finely grated
750ml (3 cups) chicken stock, salt reduced
80ml (1/3 cup) AYAM™ Soy Sauce
2 tbsp AYAM™ Fish Sauce
2 tbs brown sugar
3 long red chillies (optional), thinly sliced
100g punnet baby corn, halved lengthwise
100g snow peas, trimmed
¼ cup roughly chopped coriander, plus extra sprigs, to serve
2 lemons, juiced
2 tomatoes, halved lengthwise, cut into wedges
Cubed, firm tofu, to serve
Method:
Preheat a lightly greased char grill pan over high heat. Cook steak for 2½ minutes each side or until cooked to your liking. Rest, covered loosely with foil, for 5 minutes before slicing thinly.
Place noodles into a large bowl and pour over enough hot water to cover. Stand for 15 minutes or until softened, then drain.
Heat oil in a large saucepan over high heat. Add onions and ginger and cook, stirring, for 5 minutes or until onion is soft. Add stock, soy sauce, fish sauce, sugar, 2 chillies and coriander. Bring to the boil, stir in corn and snow peas, and simmer for 5 minutes. Reduce heat to low and stir through lemon juice (if you like, adjust seasoning with fish sauce if necessary). Leave soup over low heat until ready to serve.
To serve soup, divide noodles and very thinly sliced sirloin among bowls with remaining chilli, tomatoes and extra coriander sprigs. Using a ladle, divide soup mixture among bowls and scatter with tofu.
HINTS & TIPS
* Alternatively, omit the cooking method of the sirloin and very thinly slice. Place on top of noodles before ladling over sinigang.
* Substitute chillies with 1 small capsicum, thinly sliced.