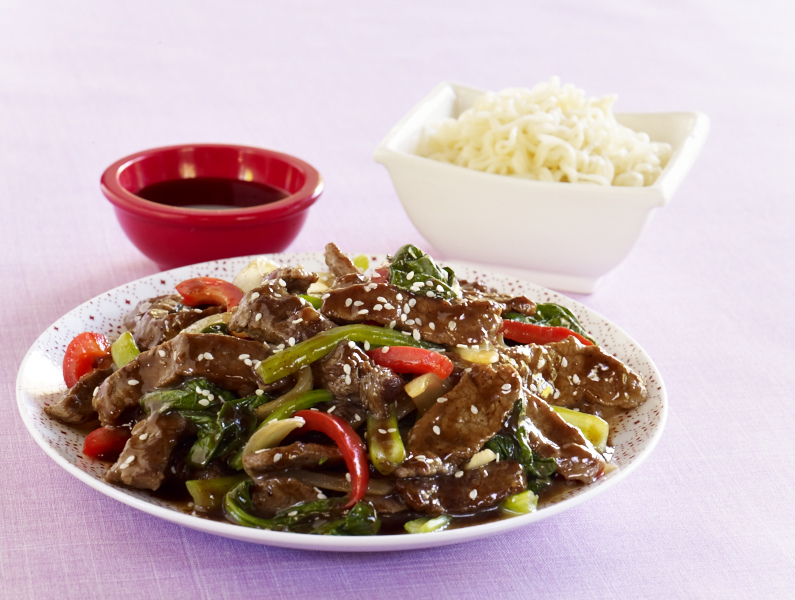 Serves 4
Prep time: 15 minutes | Cooking time: 20 min
Ingredients
500g beef eye fillet steak, thinly sliced
1 tablespoon cornflour
2 tablespoons peanut oil
1 onion, cut into wedges
1 red capsicum, sliced
200g choy sum
2 cloves garlic, crushed
2 teaspoons grated fresh ginger
1/2 cup water
1/2 cup AYAM Black Bean Sauce
1 tablespoon AYAM Soya Sauce
1 teaspoon AYAM Sesame Oil
1 tablespoon sesame seeds
Method
1. Combine beef in a bowl with the cornflour. Heat the peanut oil in a wok or frying-pan, add half the beef and stir-fry over high heat until browned, remove. Repeat with the remaining beef.
2. Heat the remaining oil, add the garlic and ginger and stir-fry for a few seconds. Aadd the onion, capsicum and choy sum and stir-fry for further 1 minute or until softened.
3. Return the beef to the wok with the water, black bean sauce, soya sauce and sesame oil and stir-fry until hot and the sauce has thickened. Serve sprinkled with the sesame seeds.
Serving Suggestion: Serve with AYAM Instant Noodles or rice.